The future of your child lies outside of the classroom but is your child's mind still stuck in one ?
Scoring in exams and class tests doesn't necessarily mean the child is excelling at real learning.
Our education system has always promoted rote learning as the essence of academics.
Hundreds of students across schools study the same syllabus, absorb the same curriculum, and solve the same set of problems and questions year after year.
Outside the classroom, the child faces a completely different world where the challenges are beyond the scope of everyday learning
A child who can tackle unseen problems and situations is truly confident and ready for the future.
Holistic Development is essential!
Is your child really playing to his/her maximum potential?
A child's mind has no limitations when it comes to learning but a mundane and uni-dimensional curriculum can be very discouraging.
If the syllabus cannot grab children's attention, their minds lose focus which affects their performance in class and outside of it.
Studies show that most kids are capable of much more than the challenges they face in an average classroom.
Do you want to give your child an extra edge over his/her life outside of the classroom?
What exactly is Puzzle Bee?
With the advent of Artificial Intelligence a lot of jobs will be replaced in the Near Future. Your child will need to:
Think Independently
Spot Patterns
Critically Evaluate Solutions
Solve Unseen Problems
...these skills are essential to stay relevant in the era of AI.
A fun and effective way to do this is through...PUZZLES!
Puzzles require all four of the above skills and aren't something you can mug up. It tests your brain and makes you solve unseen problems :)
Some sample Puzzles!
Our puzzles are very different from the "Traditional" puzzles. The main aim is to exercise the child's brain to think "out of the box" and get solutions fast
Day 1 - Sample Puzzle for Category A & B
Day 1 - Sample Puzzle for Category C, D & E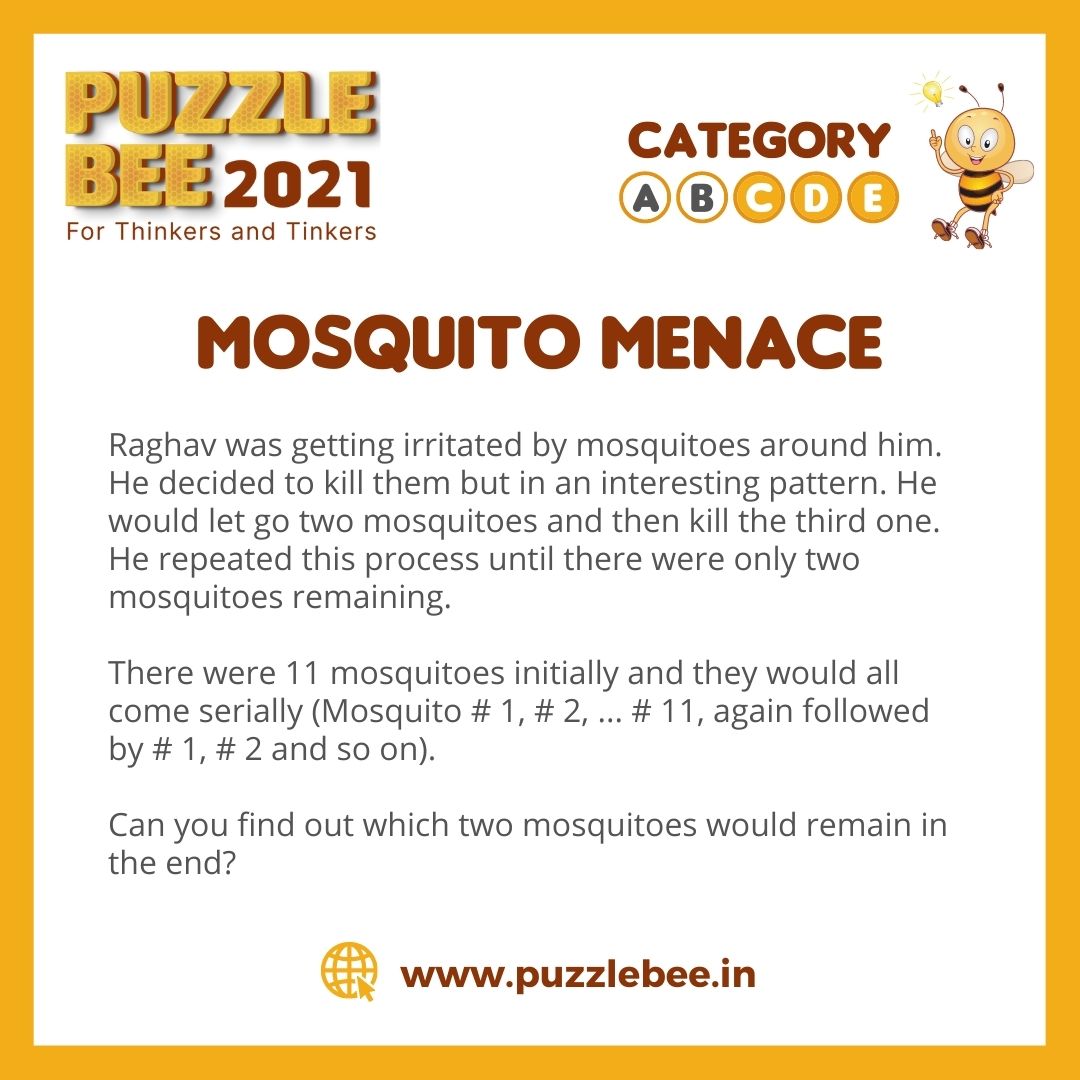 Day 2 - Sample Puzzle for Category A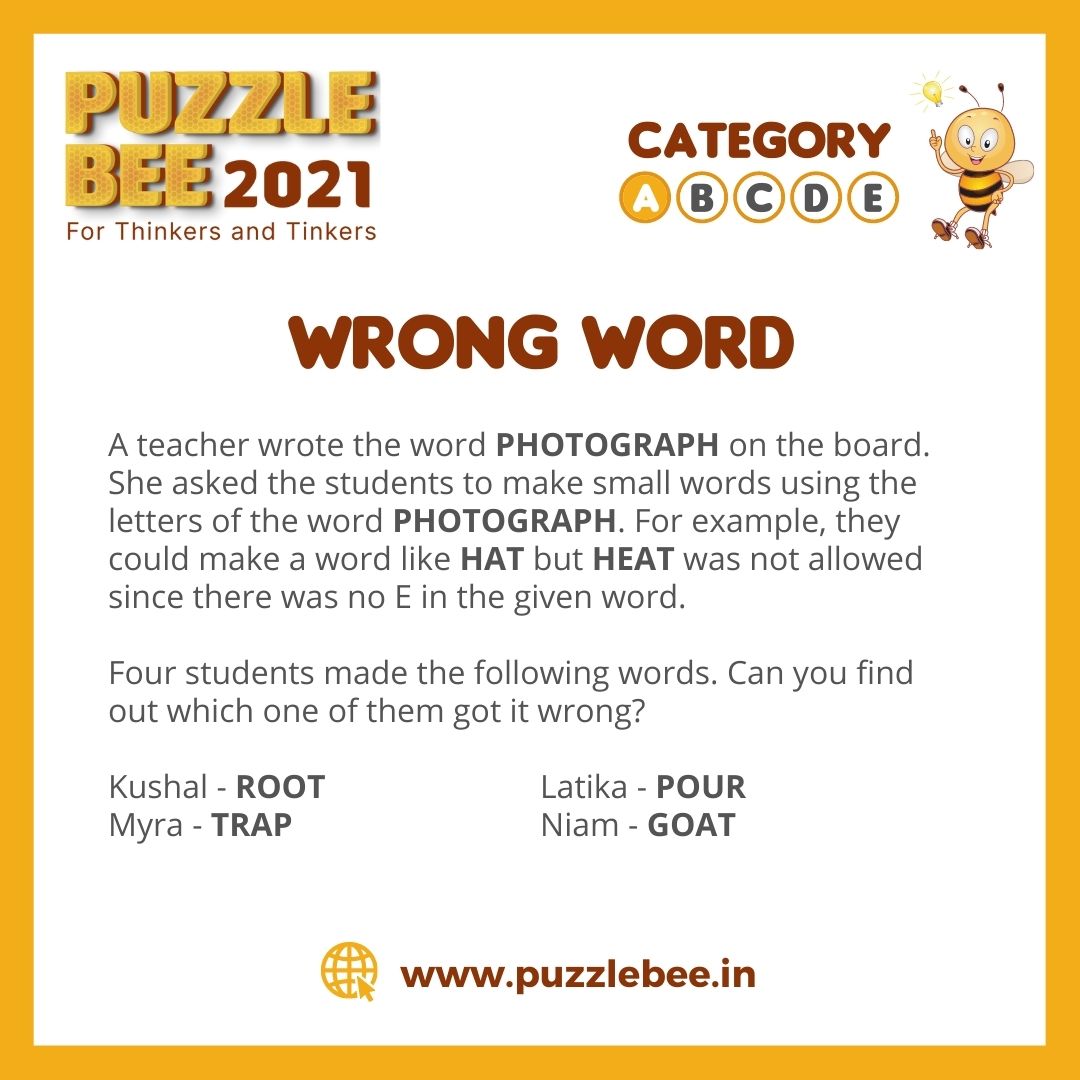 Day 2 - Sample Puzzle for Category B and C
Day 2 - Sample Puzzle for Category D and E
A Glimpse into Puzzle Bee 2019
Puzzle Bee will give your child the Edge:
01
Round 1 (Free Entry)
Open for all participants for Class 1-10

This round is completely free of cost

The competition is conducted in 5 categories:

Category A - Class 1 & 2

Category B - Class 3 & 4

Category C - Class 5 & 6

Category D - Class 7 & 8

Category E - Class 9 & 10

Participants can take the Round 1 test any time during the given time frame
Participants are also encouraged to try the sample questions before Round 1 test
02
Round 2
Everyone who score 50% or more in Round 1 will qualify

There will be a non-refundable registration fee of INR 200 for Round 2 - The fees will include an e-book on puzzles for practice

This round is also asynchronous but only attempt will be allowed

This round has separate rules which will be shared at the time of qualification
03
Round 3
Top 100 per category will qualify for this round
This round will be conducted synchronously - However, there will be multiple slots available on the given dates
This round has separate rules which will be shared at the time of qualification
* The actual number of qualifiers may be more than 100 in case there are multiple participants tied at the same score
04
Round 4
Only the top 10 in each category qualify for this round

This will be a peer vs peer competition against the clock

This will be a live session that would be conducted on ZOOM
Round 1 Prizes
Downloadable Participation certificates for all participants
Round 2 Prizes
E-Book for all participants

Logicology Gift vouchers that can be used to avail discounts and offers on other programs
Round 3 Prizes
Downloadable Appreciation Certificates
Special subsidized workshop for Round 3 qualifiers
Round 4 Prizes
Cash Prizes and Logicology Vouchers for Winners
Downloadable Achievement Certificates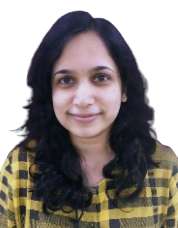 Gayatri Phadnis

Gayatri is a passionate educator who has seen the pinnacle of competitive brilliance. Be it a 99.56%ile in CAT 2008 or TATA Crucible Business Quiz, Gayatri has been there and done that. She is a regular participant in prestigious international and national level competitions related to STEM subjects.
She has authored a book on "Developing Mental Ability the fun way". Gayatri pursued her engineering from the coveted VNIT and worked as a Software Engineer and Business Analyst before launching Logicology in 2016. Logicology's purpose is to realize her dream of raising free and logical thinkers. She is a frequent speaker at conferences related to teaching and parenting. She also runs a parenting blog and a YouTube channel – Toddler Strides
Kartik Vyas
Kartik is the co-founder of Logicology. A passionate teacher, Kartik has been associated with different colleges (VNIT, IIT-Powai, NITIE , ISB-Mohali) as a mentor, coach and visiting faculty. For last 5 years he has been teaching a course on Business Intelligence and Analytics at the prestigious VNIT, Nagpur.
A marketing professional and zealous technologist, Kartik has a rich experience in the emerging fields of technologies including Analytics and Big Data. An alumnus
of VNIT & NITIE, Kartik has written and published many papers on varied topics. He is a winner of the coveted CSI Young IT Professional of the year award for his part in the team for the popular TV show Satyamev Jayate. Kartik is Gayatri's partner in her exploits at Logicology and Tata Crucible Business Quiz.
Registrations now closed!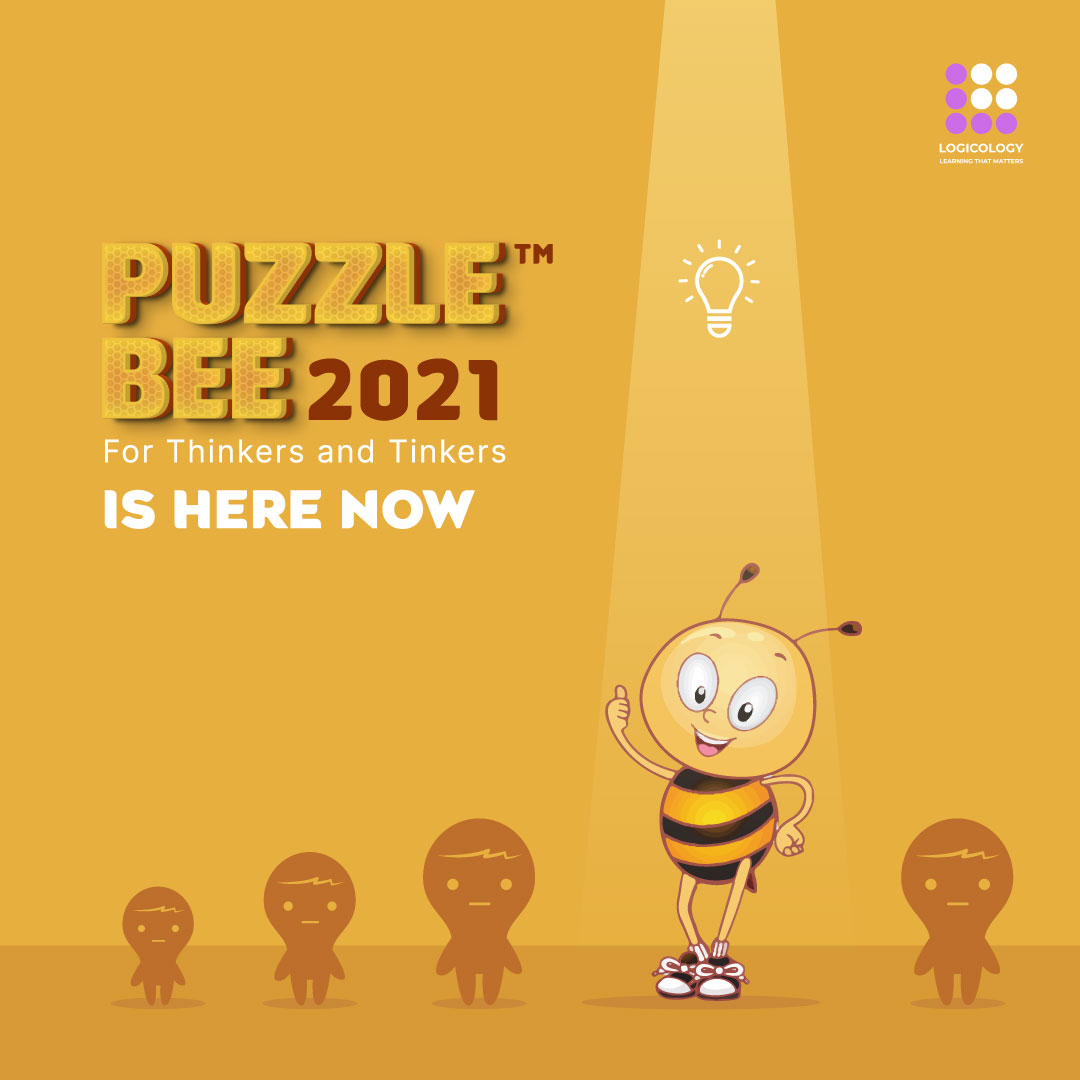 Round 1
Open till 31st October - Open round the clock (Multiple attempts allowed)
Round 2
15th October to 31st October - Open round the clock (Single attempt only)
Round 3
13th & 14th November - Slot based timings
Round 4

27th November
28th November
Details for Round 2 and beyond will be shared with the qualifiers along with the results
Registrations now closed!
FAQs
Why should I register my child for this competition?
Our education system and all conventional exams and competitions focus on how well one can solve problems they have seen earlier. These exams are a measure of how well they remember what has been taught. Puzzle Bee is a unique competition where you will get to know how well your child can solve unseen problems. It will test their application of knowledge, logical & lateral thinking, problem solving skills etc.
How can I prepare my child for this competition?
Well, you can't exactly prepare them for this in a short span. We put in a lot of research and come up with questions which they are unlikely to have seen earlier. While there is no specific curriculum, books or any reference material per se, we have shared some sample questions. While these questions would almost certainly not appear in the actual test, you will get an idea as to what kind of puzzles you can expect.
This is an online competition. I will ensure I won't help my child solve the test, but what if other parents help their children and my child loses out?
We understand this is a genuine challenge given that the competition is completely online this year. The idea behind having this competition is to know how well a child can think independently. If any parent helps his/ her child, they are defeating the very purpose of this competition – This would help them do well in the competition but is not going to help them in the real sense at all. We expect everyone to follow the honour code and not help their children.
Can parents be present in the same room while the child is taking the test?
Yes, we do not mind parents being around when their children is taking the test, as the children (especially the younger ones - Categories A & B) may require technical assistance at times. Having said that, we expect that parents do not provide any assistance in solving the puzzles. We want parents to take into account the fact that this is a competition to test how well one can think "independently" :-).
My child is in Grade 1 and there would be Grade 2 students in the same category. Is it not unfair to expect my child to compete against elder children?
Definitely not. The skills that we are trying to evaluate are independent of the grade in which a student is. In the earlier editions of Puzzle Bee too, we have had two grades in the same category and quite often, the children from the younger grade have done well and even won in their respective categories.
Is the exam pattern same across all categories?
For Round 1, it is more or less similar. There are 10 puzzles with built-in tie breakers for each of the 5 categories. Needless to say, the level of puzzles differs per category. However, we have different patterns for Categories A & B and Categories C, D & E in the subsequent rounds. The specific details will be shared with the qualified participants later.